Shoring Wall For New Infill in North Calgary
Project details
We installed a 12 foot tall shoring wall for an infill project in Calgary, AB.

Our engineered shoring solution can be installed quickly in tight spaces without disturbing the ground around it!

This shoring wall was installed on the property line of a residential lot in Calgary, Alberta, during a home rebuild.
Shortek installed a 12′ tall engineered shoring wall along the property lines of an infill project in Calgary, Alberta. The shoring wall was quick to install and didn't disturb the adjacent properties!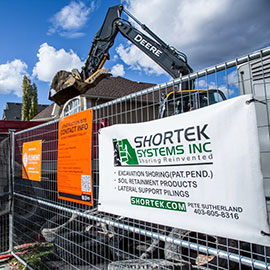 Can we help you with an excavation shoring project? Get in touch with us today.