Car Dealership in South Calgary
A commercial excavation job, 3 days from start to finish.
Project details
We shored along the property line so they could dig a 16′ excavation. This was so the cribbers and other contractors could work in the excavation safely. The ground consisted of silty sand. The excavation would have definitely failed/caved-in without shoring. Job was engineered.
Prevented it from caving in due to the soil conditions
Installed

in 3 days

from start to finish.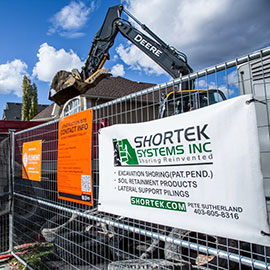 Can we help you with an excavation shoring project? Get in touch with us today.